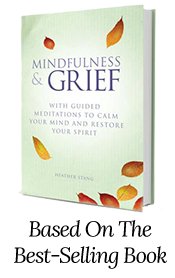 This 8 Session Mini-Course is a free resource featuring guided meditations and a home practice plan. This is offered to you as a gift, whether or not you own a copy of the best-selling book, Mindfulness & Grief, which is available as a paperback, Kindle and Nook, and from many fine independent books sellers.

How This Mini-Course Helps With Grief
These practices are designed to help you cope with life after loss - from learning how to switch off the stress response so you can get some sleep, to cultivating self-compassion and lovingkindness for others so you can find the inner and outer support you need.
Meditation for grief will help you heal your grieving body, and learn how to manage difficult and unpredictable emotions. Once you enroll, you will have instant access to eight guided meditations, as well as written instructions and inspirational quotes.
May these teachings be of great benefit to you and those you love!

With love and gratitude,